The purpose of the website is to provide public and private sector agencies with a tool to identify locations to implement truck stop electrification so that it will form part of a national network, have the greatest potential of reducing idling, and have the greatest environmental benefit. The site is also useful to identify existing electrified truck stops and candidate truck stops along the nation's major truck corridors.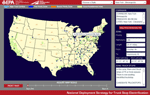 Interactive Map
The data collected for this project has been integrated into an interactive map that allows zooming, dragging, and access to the data on each of the 15 identified truck corridors and roughly 100 designated priority zones for implementation of truck stop electrification facilities. It also links to PDF maps of each of the corridors and Google Map pages for each of the zones.
To view and use the interactive map, you must have the Adobe Flash Player version 8 or newer installed.
You may choose to view the How to Use the Interactive Map page for some tips and tricks on using this resource.
Click here to go to the interactive map (this map will scale to fit the size of your window).
Or, click here to go to the fixed-size interactive map.
Some graphics may appear clearer in this version of the map.